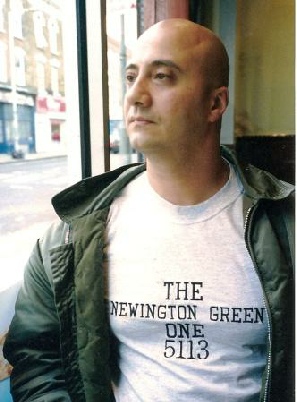 In 1996 Erkin Guney was sentenced to 14 years in jail for the alleged possession of a fire-arm and heroin.
An appeal against this conviction was rejected in 1998. In May 2003 the Criminal Cases Review Commission referred the case to the Court of Appeal.
Erkin's conviction was quashed based on evidence of police corruption. You can read a copy of this judgment here.
(Right) Erkin Guney following his release in May 2003. The number 5,113 refers to the number of days he spent inside prison.
This website provides further information about this case and also information on Erkin's more recent trial on the allegation of soliciting the murder of his late father's partner.
Erkin was cleared of these charges by the jury at the Old Bailey on Friday 22 May 2009. You can read more about this trial here. See also Case History 2, and his press release below.
Despite his acquittal, the Judge ordered Erkin to pay the costs of this trial - see Case History 3 for further details.
We have also added details concerning the death of Erkin's late father, Ramadan Guney, who died in suspicious circumstances in Northern Cyprus on 2 November 2006 (see Case History 4) and clips from an episode in the factual TV series "The Battle of Wills: Ramadan Guney".

We are pleased to publicise the publication of
Michael Gillard & Laurie Flynn's book
"Untouchables"
(Published April 2012).
This is available as a Kindle e-book (£3.99)
and as a paperback (£24.99).

Any media enquiries or messages and letters for Erkin should be sent to Sean Curran at:
Guney Clark & Ryan
60 Green Lanes
London
N16 9NH
Tel. 0207 275 7788
Fax. 0207 923 2554