Mother of Dodi's love child is professional con artist
By Michael Gillard, Jonathan Calvert, and David Connett
From the Observer, February 1998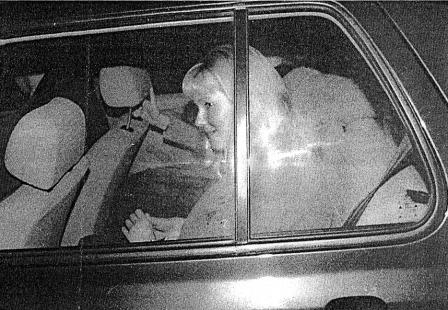 Diane Holliday said she wanted the truth, not money.
But the truth is that in a series of confidence tricks she obtained cash from feuding tycoons by telling both of them exactly what they wanted to hear.
(Right) Diane Holliday leaving Bury St Edmunds police station after being released without charge
"Lies were the truth and the truth was a lie." These damning words from the official report into the Harrods takeover will forever remain Mohammed al-Fayed's epitaph. They could equally apply to Diane Holliday, who last week claimed to be the mother of his granddaughter.
Blonde, vulnerable and girlish, Holliday had tears in her eyes as she spoke to the Observer just hours before we broke the story of a Scotland Yard investigation into her claims about Dodi Fayed's love child.
She protested she was the victim of the bitter 13-year dispute between Mr Fayed and Tiny Rowland, his defeated rival for Harrods. "I don't want money, I don't want anything to do with them", she said.
It was a polished performance. One of many during recent weeks. But barely a word was true.
Ms Holliday does have an 18-moth old daughter called Marni, who lives with adoptive parents in America. But there the truth ends and the lies begin. She sought money form the two feuding tycoons by telling them exactly what they wanted to hear. It was nothing more than a series of audacious confidence tricks by a skilled grifter with a history of financial deception.
The normally shrewd Harrods owner was approached by Holliday when he was most vulnerable, in the weeks after the car crash that killed Dodi and Princess Diana in August 1997. Mr Fayed gave her £5,000 but found she could not back up her story. The police were called in.
His complaint of extortion was later dropped but not before Ms Holliday had become involved in sting number two. This time the target was Mr Rowland, whose feud with Mr Fayed had been rekindled by a Scotland Yard investigation into an alleged theft from his Harrods safe deposit box.
Mr Rowland was offered documents and tape recordings of private phone calls relating to the Fayeds which were beyond his wildest dreams. He also handed over £5,000 before becoming suspicious and calling in the police.
The Rowland complaint of deception resulted in hoax number three, which unfolded like a scene from a movie last Wednesday. The victims this time were Scotland Yard.
During a one-hour interview at her home in Suffolk, she told Detective Chief Inspector David Shipperley that the files could be produced from a Guernsey hiding place.
At 7pm that evening she phoned a journalist and asked him to take the police to a hotel at Stansted Airport where the documents would be. They were redirected to a service station on the M11. A room had been booked in the journalist's name by a man with a Mediterranean complexion who had left some minutes previously.
The kettle was still warm, a cigarette was stubbed out in the ashtray and teh duvet was ruffled. But there were no documents. "Oh no" she said, "Someone must have got there before you and taken the papers."
There is no evidence the documents ever existed. Just as there probably never was a relationship with Dodi Fayed.
The story dominated the front pages [in 1997] until replaced by Mr Fayed's own fantasy that Dodi and Diana were murdered. But as the week wore on, Ms Holliday's account started to unravel and her embarrassing history emerged.
The Observer had first encountered Ms Holliday four years ago when, using her married name Hernandez, she was running a company called Global Projects which offered "unlimited funds" to borrowers. Those who responded to the advertisement were asked to pay advance fees. No loans were forthcoming. The advert was pulled after the Observer had received warnings from police sources that it was a con-trick. Mrs Hernandez did not object to our refusing any more advertisements. But she didn't pay her bill. Global still owes £650.
Advert for Global Projects which appeared in the Observer, 17 July 1994
Within a year she was claiming to have been engaged in a clandestine affair with Dodi. The first that Mr Fayed knew of the relationship and the alleged granddaughter was in September last year [1996]. Ms Holliday claimed she wanted to bring Marni home to Britain, but needed help with legal bills. It was at this meeting that she persuaded Mr Fayed to give her £5,000 to pay her US expenses.
She failed to mention she had already tried to sell the baby to a couple from Cheshire and had received £4,000 in expenses. The couple went to court to retrieve their money.
An investigation by the Harrods security team found no evidence she had met Dodi, a high profile playboy. The only witness she claimed was Adnan Khashoggi, the millionaire Saudi fixer and Dodi's uncle. She said he introduced her to Dodi at the Ritz Hotel in Paris. But last week Mr Khashoggi said "That is rubbish. The first time I met her was when we had lunch last month. She told me her story and I didn't believe it."
The last piece of evidence that Holliday says will prove her story is a DNA test from Marni. She claims the results are with her solicitor, Douglas Alexiou. But that document too, failed to emerge. Sources close to Mr Alexiou stress he has relied upon her instructions that she was Marni's mother and Dodi was the father. Mr Alexiou would not say whether there is independent proof of the claim.
When she told Mr Fayed she had been to see Mr Rowland, he reported her to the police for blackmail. Strangely he withdrew his complaint on the basis, he said, that it had become tainted after Ms Holliday had been tipped off by a journalist.
By this time Ms Holliday was in trouble with her negotiations with Mr Rowland, who had become ensnared after two letters arrived at his Belgravia home which purported to be correspondence between Ms Holliday, Dodi and Mr Fayed about the baby. More tantalising was Ms Holliday's claim to have a file containing highly confidential information which had belonged to Dodi. It was irresistible. Mr Rowland was on the phone to her straight away.
They met at his home in Chester Square two days before Christmas. She offered to sell the documents and Mr Rowland consulted his lawyers. She told him she was in a desperate financial plight. Mr Rowland gave her £5,000. Days later she produced a list detailing the tape recordings and letters between Mr Fayed and Norman Tebbit, the Trade Secretary who approved Mr Fayed's takeover of Harrods. Other documents in the list named Margaret Thatcher, her children Mark and Carol, and the Sultan of Brunei. It is now clear that none of these documents exist.
A meeting was arranged at a pub in the village of Madingley, Cambridgeshire. It was intended that Mr Rowland's wife, Josie, would hand over £25,000 cash in return for the documents and tapes. But by now Mr Rowland had become convinced he was the target of a sting. He thought that Ms Holliday had been secretly recording his conversations with her and suspected that she was working for Mr Fayed. He believed Mr Fayed was attempting to set him up in order to combat the threat posed by his legal action over the revelations that his Harrods deposit box had been broken into. He called Scotland Yard.
There is another police investigation into thefts from Harrods deposit boxes under way, and this too has become entangled in the Holliday affair. Last November the Observer revealed that Scotland Yard was looking into the disappearance of jewels from a box owned by an elderly lady who lives in London. Curiously, just days before the love child story broke, the box owner's accountant, Nathan Dony, received an anonymous letter suggesting that he contact Ms Holliday - a woman he had never met before. Mr Dony took no action. But it was clear that someone was trying to put all the complainants against Harrods in touch with one another.
Who is telling the truth in this tangled tale is for Scotland Yard to unravel. On Friday, police arrested Diane Holliday and questioned her for a second time. She has been released on police bail.
[Reproduced with permission of Michael Gillard]