Go-between claim casts doubt on the woman in row over
"Dodi baby"
By Nigel Rosser
From the Evening Standard, 11 February 1998
THE PRESENCE of an Arab middleman "advising" the woman at the centre of a row over Dodi Fayed and a secret baby emerged today - the fourth day she has failed to produce a DNA certificate to prove claims that Dodi was the father of her daughter Marni.
Miss Diane Holliday - who was revealed today to have a history of bad debts, failed business ventures and financial difficulties - claims the man approached her in December having heard the story of "Dodi's child" supposedly from friends of the Harrods' heir. The Saudi Arabian-based businessman offered to assist her in establishing her claims that Marni was born after a brief, five-month affair with Dodi before he romanced Princess Diana.
He said he would fund her legal battle to win back Marni from her adoptive parents in America. His generosity, according to Miss Holliday, was apparently motivated by a desire to achieve "what is best for both Miss Holliday and the Fayeds … simply trying to help all of them keep things amicable".
The Evening Standard tried to speak to the businessman in Riyadh about his involvement with Miss Holliday but he declined to comment. Bank statements seen by the Evening Standard support her admission that she could not afford to fund the litigation herself.
Miss Holliday said today: "I was first introduced to him by a friend. He said he knew Dodi Fayed and believed in my story and offered his help. He said he knew the Fayeds and was hoping to make things work out for all of us. I accepted his help and he arranged for my solicitors."
But others who have denounced her claims detect a more sinister arid manipulative role in the middle-man's alleged backing of Miss Holliday. She has stated that if she can recover her daughter from the American legal couple who adopted her she would consider making a claim against Dodi's estate on behalf of her daughter.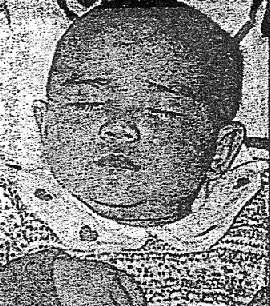 The Fayed family has vehemently rejected her claims and have accused her of exploiting the family's grief following the death of Dodi and the Princess of Wales in the Paris car crash.
Her lawyer, Douglas Alexiou, of the Mayfair firm Gordon Dadds, who has represented the Duchess of York, refused to comment on who was funding Miss Holliday's bills.
It is clear Mr Alexiou has been caught up in an embarrassing position by Miss Holliday's promise yesterday to produce the DNA certificate. It is still to materialise and the Fayed family have made it clear the continuing absence proves it never existed.
Today Miss Holliday's credibility suffered a further setback when it was revealed she has a background of debts and has traded under four different names while running her hotel venture capital companies.
School fees for her children at Roedean and Stowe were allegedly unpaid. It is becoming increasingly clear that Miss Holliday's story is unsupportable as more and more flaws emerge in it.
She has still not answered several vital questions:
(1) She claims a DNA test was carried out, but a certificate or hospital paperwork associated with the test has never been produced - despite huge pressure on her and her lawyer to provide it.
(2) She says the test was done by Dodi's doctor in America using a sample of her blood, Dodi's blood and Marni's blood taken from Williamsburg Community Hospital in Virginia with a release form she signed. She has not, however, provided a copy of the release form and Mohamed Fayed's spokesman has stated that no blood sample of Dodi's was ever authorised or supplied.
(3) Her account of the adoption of Marni remains unclear. The adoptive parents, Marsha Neifeild and Alan Folkman say she told them another name for the father when the baby was adopted. She also allegedly let down a childless couple in the North of England who gave her money to bring Marni back from America to be fostered by them. They never saw their money again.
(4) Lawyers on behalf of the couple who adopted the child declared that at no time did Miss Holliday say that Dodi was the father. In fact, they stated today, that in papers signed and witnessed by Miss Holliday another person is named as the child's actual father and the unnamed father had acknowledged his parental status and revoked all rights to the child. Miss Holliday says she gave the name of her first husband, John Bulteel.
(5) She claims she met Dodi at the Ritz Hotel in Paris and subsequently met him at various Fayed-owned apartments and at her then home in Bracknell. Not one witness, including neighbours or friends, has come forward in the deluge of publicity since her claims were made public to support her evidence.
(6) She has not produced a single photograph of the couple together, or any of his letters to her or telephone records showing his alleged calls.
(7) At the encouragement of her "adviser" she also entered into negotiations with Fayed's arch-rival, Tiny Rowland, over documents she said Dodi had left with her relating to the House of Fraser takeover. She accepted £5,000 from him but never produced any documents. The police have been asked to investigate.
Miss Holliday maintains however she is telling the truth. She said: "I never wanted this to come out. I am caught up in a game between Tiny Rowland and Mohamed. I am just an ordinary person with an ordinary life and the ordinary financial muddles everyone has. Please tell me what I have gained so far from this if I'm lying?"
Miss Holliday has asked the Standard to make it clear that she has neither asked nor been given any money for interviews or photographs. She said: "I do not want money from anybody over this. I just want it all to end."